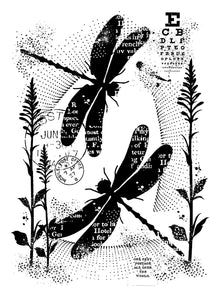 Create striking cards with the latest Woodware clear stamp designs from the extremely talented Francois Read.
Dancing Dragonflies features beautiful silhouettes of dragonflies, florals and dotted patterns along with vintage postal stamp embellishments.
Tear resistant they can be stretched and will relax back to their original shape, a quality deeply etched design for perfect results
The stamps are perfect for use when creating a special card, backgrounds or just scrapbooking.
The set includes 1 polymer stamp measuring 90mm x 130mm