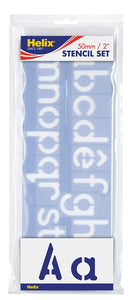 If you want to make sure that you have spot-on designs every single time then these Helix Alphabet stencils are for you!
If you are working on Comics too calligraphy or working on that next major project then this stencil gives you clear, easy font time and time again.
The stencil is made from transparent plastic with a wide range of characters ranging from upper and lower case letters to numbers and those popular symbols making them ideal for all crafts and designers.
Size - 50mm (5cm)