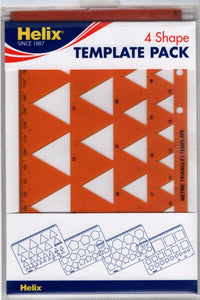 Sometimes, a ruler or a pair of compasses just doesn't cut it – but don't lose out when you have the Helix 4 shape template. Multi-sized shapes are at your service. Reduce the clunk, increase the organisation – make an accurate choice with these fab templates!
Whether you are drawing out designs, creating a clamour of comics or scrapbooking your sentiments, these templates help you to put the accuracy back into handmade crafts. The shatterproof plastic and innovative ink risers prevent the embarrassment of ink slips and heavy hands. Stay eagle-eyed. Stay organised.
The stencil is made from transparent plastic with a wide range of characters ranging from upper and lower case letters to numbers and those popular symbols making them ideal for all crafts and designers.
Shapes include: Square, Triangle, Pentagon and Hexagon.
Includes guidelines for extra accuracy.