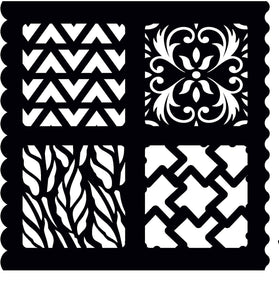 Create a great background for all your paper crafting projects by positioning and applying your favourite medium over this beautiful Scrolls & Tyre Tread stencil designed by Lisa Horton.
Suitable for use with inks, paints, sprays and pastes; wipe clean immediately after use.
Also suitable for use with embossing machines (using the appropriate embossing mat).
This stencil can also be used for ATC purposes.
Size 17.5cm x 17.5cm