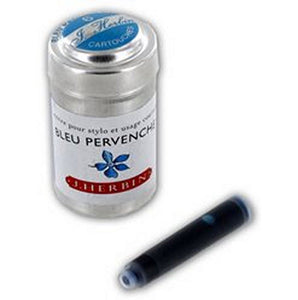 Pack of 6, J Herbin ink cartridges – Bleu Pervenche (Perin Winkle Blue)
Besides their wide range of colours, these inks are especially popular due to the use of entirely natural dyes. The use of these dyes mean that these inks are of a neutral pH (non-acidic) and fast-drying.
These are short international standard ink cartridges so will fit most fountain pens from many leading brands inckuding, Brunnen, Caran dAche, Cleo-Skribent, Delta, Diplomat, Faber-Castell, Ferrari, Graf von Faber-Castell, Jean-Pierre Lepine, Kaweco, Montegrappa, Omas, Pelikan, Tombow,
The ink is suitable to be used in rollerball and fountain
J. Herbin started producing ink in 1670, making ink for Louis XIV, the Sun King (or Le Roi Soleil) and other important French figures such as Victor Hugo (author of "The Hunchback of Notre Dame" and "Les Miserables").