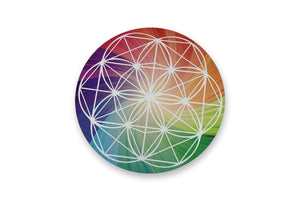 This Healing crystal grid board can be used for healing, manifesting, protection, blessing etc, colourful and durable, these crystal grid boards are a great addition to your crystal collection
The power of a crystal grid comes from the union of energies created between the healing stones, sacred geometry, and your intention.
This beautiful crystal grid is made of strong, thick cardboard with a shiny chakra tone finish.
Board size measures approx. 30cm in diameter and is 2mm thick / 12 inches x 0.1 Inches - the board is made from card, think, traditional board game thickness.
Provided with a helpful information sheet, explaining how to use your grid