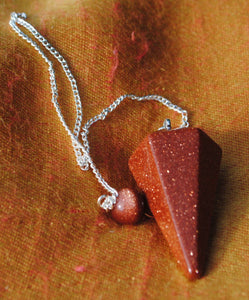 Goldstone is a man made gemstone that has been around since the European Renaissance, it is regarded as an Energy stone
Early monks working at a glass factory near Venice, were practising alchemy when molten copper accidentally tipped into a molten glass container.
This crystallised into thousands of tiny crystals and formed a melt with golden light sparkles. This is how the first goldstone came about, though it is not technically a gemstone, it is often referred to as one.
Although no one knows how or why dowsing works, it is most commonly thought that the movement of the pendulum is controlled through or by your subconscious (or something of that nature).
The pendulum measures 25mm (l) x 15mm (w) with a 22cm long silver chain