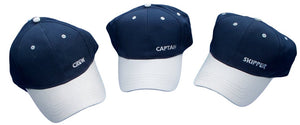 Captains Hat / Skipper / Crew - Hats for the whole crew

The Ideal item for the person that is in charge or likes to think they are!!

Each hat features the position embroidered on the front 

The hats are fully adjustable so will fit just about everyone

Perfect for that family holiday afloat - make sure everyone knows their position!!